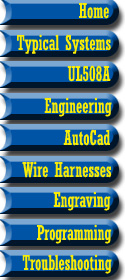 Lighthouse recognizes the customers needs in engineering,
performance and craftsmanship.
Lighthouse Electric Controls Co., Inc. offers a wide array of Custom Electrical Controls Systems. The following is a brief list of these services:
UL508A: UL listed manufacturer of Industrial Control Panels (NITW, NITW7) per File E91018

Engineering: Design of electrical and mechanical aspects of Custom Electrical Control Systems

AutoCAD LT®: Computer Aided Drafting to produce electrical layout, schematic and material list drawings.

Wire Harnesses and Cable Assemblies: Custom design manufacturing techniques, cutting, harnessing, and testing.

Engraving: Custom nameplate computerized engraving. Special cutout machining for soft metals.

Programming: Custom electrical controls programming using PLCs and personal computers.

Troubleshooting: Field service available for assembly/wiring of field device equipment and troubleshooting electrical malfunctions in power and control equipment.
For more information on any of the above categories, please mouse click on the appropriate "Link" button to the left.